Are you tired of your stomach issues running your life and ready for a change?
sick of worrying about embarrassing symptoms or canceling plans because you don't feel well?
longing to find a way to have sustainable, long-term relief from IBS and get back to living the life you were meant to?
constantly worrying about what to eat, and have difficulty navigating social situations around dietary restrictions?
Hi, I'm Alyssa
I'm a Registered Dietitian specializing in digestive issues. I've spent 20 years as a dietitian helping people just like you to finally find relief using natural solutions.
Early in my career, I noticed that IBS is an area the medical system does not have good solutions for. It became my mission to find the most effective, evidence-based strategies that would help my patients who are suffering so badly find lasting relief.
What I learned is amazing news for people with IBS - there are proven, effective dietary and lifestyle strategies that help over 80% of people with IBS improve their symptoms and regain their quality of life!! And I absolutely love (and I've even become known for!) teaching these strategies to my clients and watching their incredible transformations.
Take Tracy, for Example
When Tracy first came to me, she was at the peak of her frustration. She was so bloated that it was sometimes uncomfortable to move. She would go up to 4 days without having a bowel movement. She had gained weight, could not fit into any of her clothes, and felt terrible about herself.
She had tried many many conventional and naturopathic treatments, and these interventions would sometimes help for a while but then her problems would return. She felt frustrated and discouraged, but she could not figure out what she was doing wrong.
Here's what Tracy has to say about our work together:
"Alyssa provided a comprehensive plan that calmed my system down and provided tremendous physical and emotional relief — it wasn't my imagination! Something WAS off with my body and the healthy foods I had been eating were making it worse.
Alyssa taught me how to eat healthy for my body and my unique needs, and how to manage any flare ups that may arise. Today I feel much better! I feel healthy from the inside out. My IBS is under control, my weight is down, I have more energy, and I have confidence in my ability to maintain and manage an eating plan that's right for me.
I have already recommended Alyssa to friends and family with GI and IBS issues. Why? Because she listened and she helped me. She didn't brush off my concerns. She understood them. She helped me take action that improved my health and my quality of life. I am grateful that my GI doctor referred me to her."
-Tracy
You cut through the guesswork and finally get to the bottom of what's going on with your body. You know exactly what caused your IBS. And you know how to get it under control.
You wake up in the morning feeling energized. You don't wonder if your jeans will still button after you eat. You don't give a thought to where the bathrooms will be as you move throughout your day.
You schedule your time around what works best for YOU, not around your body's "calmer" times. Your family wants to take a hike or go to the beach? No problem!
And the best thing? You're not afraid to eat.
You know EXACTLY which foods work well with your body. And you've got tools you need to help you stay on track.
You feel good again! You've left survival mode in the dust and are THRIVING!
Sounds far-fetched right? When you're struggling with IBS, it can feel like you're in a dark cave with no way out. You've tried countless so-called solutions, and come away weary and frustrated. But it doesn't have to be this way.
That's where I come in. I have helped over 1,000 clients calm their symptoms so they can get back to living their lives!
Are you ready to get to the bottom of your IBS?
Introducing...
IBS Relief Blueprint is a step by step system to relieve your IBS symptoms using proven, effective natural solutions.
In this 3 month program, you will learn to:
Eliminate the problematic foods that are causing you pain .

Learn exactly which foods to eat to make you feel good.

Be confident in your food choices so you won't be scared to eat.

Dine out and confidently engage in social situations without worrying what to order.

Eat regular meals that you and your family can enjoy together.

Prepare meals and snacks using techniques that are quick and simple for your busy lifestyle.

Navigate the grocery store without stress or overwhelm.

Manage emotional and stress eating so you can stay on track toward success.

Save all the time and energy it would take to figure this out on your own.
Here is what you get with the IBS Relief Blueprint:
12 Weekly, pre-recorded, online modules.
Weekly action plan so you are clear on the exact steps to take each week.
Live bimonthly group Q&A for customized support.
Private facebook group for questions, discussion, accountability, and support.
Weekly meal plans and grocery lists.
6-week Gut-Centered Hypnotherapy program.
One private 1:1 "Break Free from IBS" session with Alyssa.
A Multitude of done-for you handouts and guides.
Worksheets and checklists along the way.
6 months of access to program content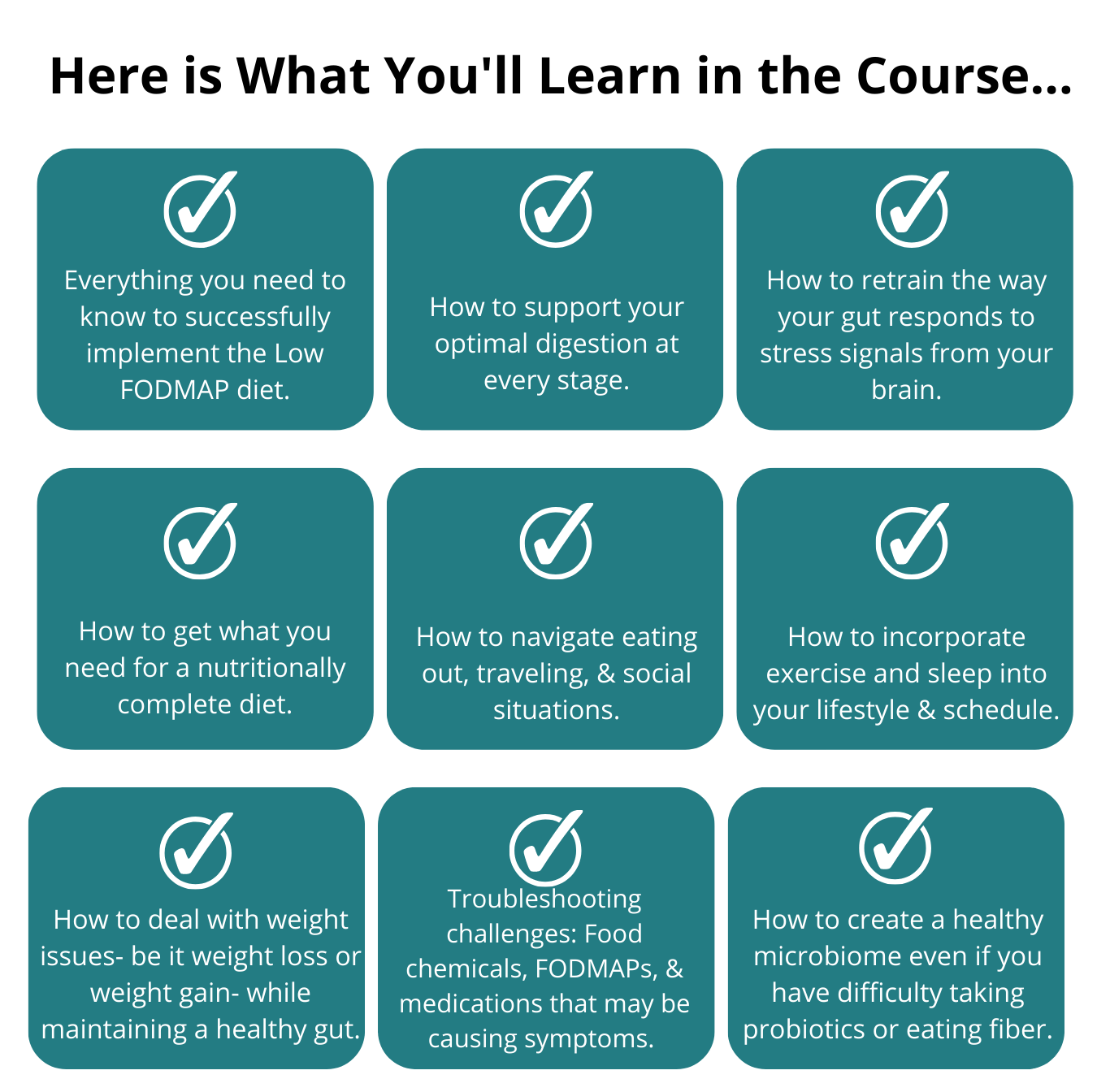 Kristen
"The longer I have done the program, the better I have felt. I have identified most of the foods that are an issue for me and how to avoid them. I can go out now without worrying about having to leave early because of my stomach or trying to mask humiliating gas. In addition, I am a better mom and wife. I have more energy, so I am able to do things and keep up with my family."
Sharon
"IBS is now so much more manageable for me! I go into work now so much more easily instead of dragging myself in like I was doing before due to how I felt. I would definitely recommend others facing similar issues to go see Alyssa! Now that I have identified my trigger foods I no longer feel restricted or overwhelmed, and I am so grateful I did not have to navigate the process on my own."
Diane
"Today, I continue to feel terrific. I am grateful to be able to eat a large variety of foods that no longer bother me and to be able to enjoy my life again. Not only is Alyssa knowledgeable and experienced, but she also has a very warm way about her that allowed me to feel as though I was in very good hands. She took the time to listen to what was really going on, ask illuminating questions, and explain her recommendations clearly and succinctly. Alyssa was of far greater assistance to me than any of the doctors I worked with."
IBS Relief Blueprint includes everything you need to know to feel better fast.
 It is a step-by-step roadmap that walks you through the implementation of the most cutting edge evidence-based techniques for IBS. No more guessing, and no more wasting money on expensive potions and pills that don't work. 
I have packed an incredible amount of value into this program to make sure you have everything you need to be successful in your journey. People spend thousands of dollars to work with integrative and functional practitioners to get the results you are going to get with this program, but that's not what you're gonna pay. I really want this program to be accessible to as many people as possible, so I am offering the IBS Relief Blueprint at a very special rate. 
Enroll now, and you will get the IBS Relief Program for only $847! (or 6 easy payments of $147) 
Enroll Now
Don't spend one more day suffering when there is a solution.
Your health is the most worthwhile investment you can make.
This offer is only available for a limited time and this early bird rate will disappear on insert date, so Enroll Now! 
Enroll Here